The third quarter of 2013 was another big one for the U.S. solar industry. 930 megawatts of solar photovoltaics (PV) were installed across the country — the second largest quarter in the industry's history — and it was the largest quarter ever for residential PV installations.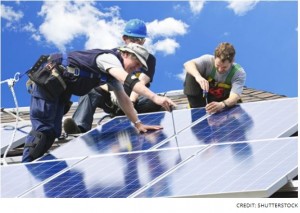 As the solar industry continues its remarkable growth, "2013 is likely to be the first time in more than 15 years that the U.S. installs more solar capacity than world leader Germany," according to GTM Research and the Solar Energy Industries Association.
By the end of the year, more than 400,000 solar projects will be operating across the U.S. and installations will have grown 27 percent over 2012, with a 52 percent growth rate in the residential sector alone, according to GTM's forecast.
Read more at ClimateProgress