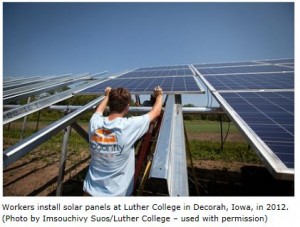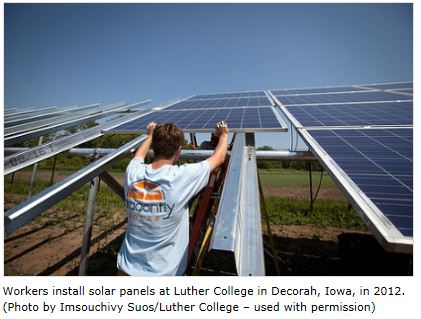 Solar energy, already on a roll in Iowa, could get another boost from three bills under consideration in the state legislature.
One bill, introduced on Wednesday, requires Iowa's major investor-owned utilities to install 105 megawatts of solar power by the end of 2020, among other provisions.
Another would appropriate $18 million to the state's three major universities, requiring each of them to install at least two megawatts of solar capacity by June 2017.
A third bill would double the money in the state's tax credit fund for solar or other renewable energy systems. The fund was created in 2012 with $1.5 million in tax credits to be made available each year. Iowans collected about $620,000 in 2012, and claimed the full $1.5 million in 2013.
In fact, 94 applications in 2013 came in after the fund was depleted for the year, according to an Iowa Department of Revenue spokeswoman, and will be the first applications processed in 2014.
"I'd like to make sure all the projects applied for in 2014 get funded," said state Sen. Rob Hogg.
At $1.5 million per year, state Sen. Joe Bolkcom said the fund "is still pretty meager. We're going to try to make it more robust."
He believes an expansion of the tax credit has a good shot at passing, considering the widespread – and bipartisan – support when it was initially approved in 2012. It passed on votes of 45 to 1 in the Senate and 82 to 14 in the House of Representatives.
"I'm hopeful we can make the case for job creation," he said. "Like a lot of things in the energy sector, we provide incentives to get them going, so people can see the promise of solar."
Read more at Midwest Energy News